Who we are
Good Sign Ltd was born in Helsinki, Finland in 2007, by 6 founders. We are now 40 people in Finland, the Netherlands, and the USA - and growing. The company's turnover of approximately EUR 4 million consists mainly of SaaS services.
Good Sign removes pain points in pricing, billing, and monetization of recurring revenue and empowers new business models. Good Sign SaaS automates subscriptions, pay-per-use, and service agreements, complementing customers' CRM and ERP systems.
Today, we are a scale-up software company devoted to serving our customers globally. Our customers include Com4, DLL, Fujitsu, and OpusCapita, where Good Sign Software brought significant improvements in customer satisfaction and earnings.
2007 Born
Erp is not enough for recurring revenue business
Good Sign Software is built to solve existing pains in managing and monetizing recurring revenue business models: subscriptions, pay-per-use, and service contracts.


Founders
Good Sign Ltd is born in Helsinki, Finland in 2007, by 6 founders: Taija Engman, Juha Korsimaa, Miika Flink, Pasi Oja-Nisula, Harri Aaltonen, and Jari Metelinen, who all work at Good Sign still today (image below).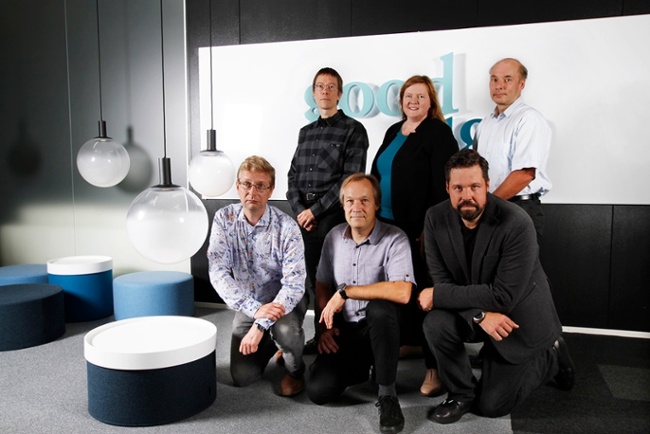 2010 Visioning transformation
CUSTOMER REQUEST SHAPES CAPABILITIES
A dear customer asks us if we can manage pricing and billing of all of their large and complex end-customer contracts consolidating pay-per-use from hundreds of data streams from different systems. Yes, we can!
OUT MANUAL COMPLEXITY. IN AUTOMATED FLEXIBILITY.
Yes to the customer, marks our new path to perfect our software capability to monetize demanding data-driven and customer-centric business.
DATA-DRIVEN
We perfect our capabilities to run monetization of pay-per-use driven by data. No need to build complex processes to assure that all entitlements and usage are billed and not just what is included at the time of signing a customer contract. Data provides the correct service inventory at all times.
CUSTOMER-CENTRIC
We refine our software's rule-based capability for exception-based pricing and customer-specific pricing, billing allocations, and invoice grouping. Thus, when needed, any end-customer demands for pricing and billing can be automated.
2015 FLEXIBLE
NEW CUSTOMER INDUSTRIES
We start selling our software to industries new to us. This requires no technical changes to our software.
FLEXIBILITY IN CORE
We have had the flexibility for different assets and services, various business models, and evolving pricing schemes in our hearts from the beginning.
DYNAMIC BUILT ENABLES SERVING MANY INDUSTRIES
Flexibility to serve various needs is enabled in our technical core with dynamic objects, dynamic database, dynamic UI, dynamic data import interfaces, powerful data mediation, and rule-based orchestration.
2017 MARKET DEMAND
GROWTH
Good Sign accelerates to SaaS growth path with 20% revenue growth from 2,5 M€ to 3 M€.
STRATEGY TO LINK TO SOFTWARE PLATFORMS
We take a new approach to providing easiness to customers by linking to software platforms and ecosystems with certified interfaces.
FIRST SERVICENOW AND MICROSOFT
Good Sign's first API certification is with ServiceNow.
Microsoft technologies are high on the certification list as Good Sign is built with Microsoft technologies.
Altogether Good Sign has set up over 300 interfaces with different systems within different architectures.
2018 UNITED
VALUES
We define what our values provide our customers: Intelligent Solutions, Solid Results, and True Fellows.
INTERNATIONAL GROWTH
What a delight to help customers in more new countries internationally than ever before.
TEAM PLAY
All good signers seize the opportunity to become Good Sign shareholders.
2020 SERVITIZATION
VISION COMING TRUE
The rise in recurring revenue business models and digitalization are megatrends that are further accelerated by the pandemic.
SIMILAR NEEDS IN DIFFERENT BUSINESSES
We are happy and proud of how the flexibility of our software now enables us to serve customers in many industries. No industry-specific coding is needed to automate the pricing and billing:
From financial services to IT services and software. From facilities and workspaces to energy. From telecom to health and pharmaceutical. From traffic and logistics to carbon footprint valuation. Commercial as well as public organizations.
BUSINESS RULES IN CORE OF FLEXIBILITY AND SCALE
We still share our founders' vision that businesses can evolve and scale with future-proof monetization software. Good Sign Software provides flexibility and scalability by automating business rules.
2021 Boosted
Recognition
The international research and consulting company Forrester has listed Good Sign among the global players in the field.
Growth Funding
Good Sign receives a capital investment from Bocap SME Achievers Fund III. EUR 10 million of funding will be used for growing and scaling in both the domestic and global markets. Now, with this investment, we can accelerate the triumph of customer-centric service businesses. We now have the resources to become a top player globally.