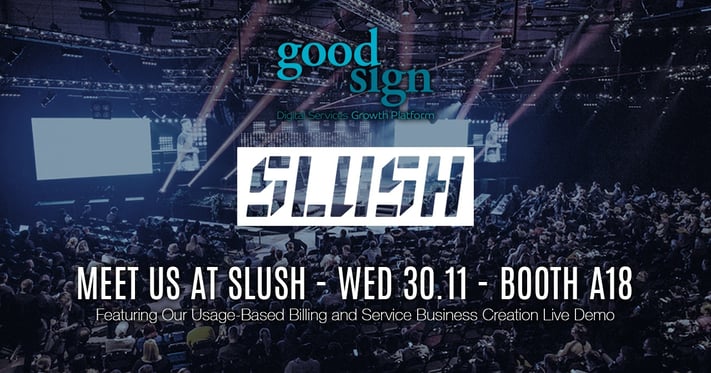 Good Sign at the tech event of the year, Slush 2016.
Looking to introduce new service business models? Meet Good Sign Software - a revolutionary tool for intelligent monetization and automation of services - to support your growth and scalability.
According to research, the relative share of service revenues, the export of services, and the investments on service targeted R&D are growing.
Provided services do not yet match with the needs of customers. Both business and consumer customers are looking for better customer experience in services with their special and evolving needs taken into account. Internet of Things and Services enables ubiqutous services. Disruptive services are invented.
Currently, the new service models combined with the individual needs of customers are endangering productivity, because the IT systems which support traditional business models require manual work, and are standing in a way of effective tailoring and scalability of services.
Most of the leaders in service business are stating, that due to manual steps and people dependency they have substantial revenue leakages, losing up to 10% of service revenue.
Many corporate decision makers have not yet actively grasped the possibilities offered by digitalizing service business.
Currently, the customers are expecting:
Flexibility and effortlessness during the lifecycle of the service
Possibility to choose a tailored service combination instead of picking a package that is least bad for them
To be able to pay-per-use instead of paying for an assumed need
To be able to receive clear invoice specification for the services
Come and meet us
We will show Good Sign live at Slush on Wednesday November 30th. Seek out booth A18.
You'll see our live demo of Usage-Based Billing and Service Business Creation.
We will use a fully automated industrial machinery demonstrated with Lego Mindstorm to perform mechanical work. The robot will be sending real-time usage data to Microsoft Azure IoT cloud from which the data will flow to Good Sign Monetization Platform. From the data received, Good Sign Platform will create real-time charges.
Update Your company service business flexibility with advanced rule-based algorithms to improve the speed, accuracy and transparency of Your top-of-the-line industrial or IT applications.
Looking forward to discussing your service business!